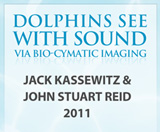 BREAKING NEWS
---
November 2011
The Discovery of Dolphin Language
Researchers in the United States and Great Britain have made a significant breakthrough in deciphering dolphin language in which a series of eight objects have been sonically identified by dolphins. Team leader, Jack Kassewitz of SpeakDolphin.com, 'spoke' to dolphins with the dolphin's own sound picture words. Dolphins in two separate research centers understood the words, presenting convincing evidence that dolphins employ a universal "sono-pictorial" language of communication.
---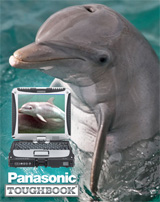 ---
August 26, 2010
Panasonic's Toughbook computers are rugged enough for the US military in remote regions all over the world. Now, the robust portable computers are moving into new territory – the wet, salty environment of dolphins.
---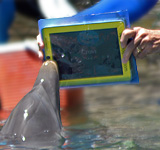 ---
May 23, 2010
Last week, a young bottlenose dolphin named Merlin became the first of his species to join the growing number of enthusiasts using the Apple iPad.
---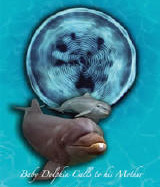 Dolphin Language Breakthrough
---
Listen to Radio Interviews
In an important breakthrough in deciphering dolphin language, researchers Jack Kassewitz and John Stuart Reid, have imaged the high definition imprints that dolphin sounds make in water. The resulting "CymaGlyphs," as the images have been named, are reproducible patterns that are expected to form the basis of a lexicon of dolphin language, each pattern representing a dolphin "picture word". read more
---
Joy is prevalent whenever we swim with dolphins, but creating a Peace on Earth ceremony with dolphins—that's just over the top!
read more...
---
MISSION STATEMENT
To significantly expand communication between dolphins and humans.
We are working towards this goal by using cutting-edge technology to:
Develop new systems to explore cetacean cognition, acoustic abilities and create a language interface.
Record cetacean sounds both above and below water in the broadest spectrum possible.
Analyze these cetacean sounds for harmonic patterns and communication value.
Use these analyzed sounds to play specific musical phrases and tones underwater -- back to the cetaceans -- while recording their contemporaneous responses.
Publish and share this research in scientific journals.
Assist in establishing new standards in the scientific grade recording and processing of marine mammal acoustics.
Play cooperative games with cetaceans in order to expand our understanding of interspecies alliances and non-verbal communication.
Produce and distribute dolphin recordings for integration into human culture.
Use dolphin images and recordings to inspire humanity towards greater stewardship of our oceans.